19 reported killed in air strike on hospital in Afghanistan
Comments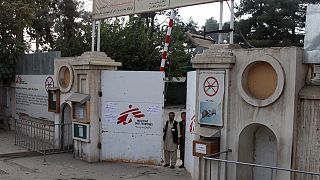 An aerial bombing has killed at least 19 people at a hospital run by Medecins Sans Frontieres in the Afghan city of Konduz.
According to the aid group, at least 12 MSF staff, four adult patients and three children died – raising an earlier estimate of the death toll.
#MSF#Kunduz trauma center aflame after aerial attack this morn. Staff tending to patients, each other, in aftermath pic.twitter.com/o6toDwivym

— Doctors w/o Borders (@MSF_USA) October 3, 2015
Kunduz has been the scene of recent heavy fighting between Taliban and Afghan forces supported by NATO.
In a statement the MSF group said the incident was an "aerial attack" but it is still unclear if it was carried out by Afghan or US forces.
A NATO spokesman is reported as saying the incident is under investigation.
Clashes have been going on the the northern provincial capital since the Taliban took control of the city a week ago.