Greek freejumper delights crowds in Santorini in the Redbull Art of Motion 2015 finals
Comments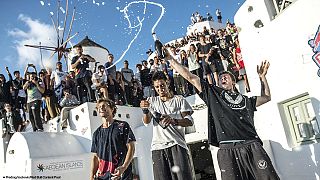 Hundreds of people gathered on the Greek Island of Santorini in Greece for the Redbull Art of Motion 2015 finals on Saturday.
Competitors jumped, flipped and vaulted the course in a series of impressive stunts that looked more gymnastics than plain jumping.
The event was eventually won by Greece's Dimitri Kyrsanidis,known as DK, with Latvian Pavel Petkuns taking second and Canada's Jesse Peveril coming in third.