Trouble in paradise as six Greek islands lose tax breaks
Comments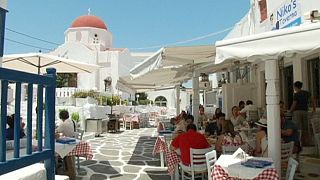 For years the Greek Aegean islands have benefited from a VAT rate 30 percent lower than the rest of the country.
The rate was set to act as an incentive to prevent the dwindling populations from leaving the islands.
Now the advantage has gone for six of them as part of the latest reforms to meet the demands of Greece's international bailout.
Naxos May Be The Most Underrated Greek Island http://t.co/yVX7GQy2aLpic.twitter.com/ogsDyQAetf

— Worldwide Greeks (@worldwidegreeks) September 30, 2015
The islands concerned are
Naxos, Mykonos, Santorini, Rhodes,Paros and Skiathos
On the island of Naxos with a population of around 18,000 locals fear the worst.
Vaggelis Koutelieris is a
Supermarket owner on Naxos:"We work for three months in the summer, so for the rest of the time, when it's just the locals here, this will definitely affect our turnover, our consumption. But our expenditure is the same. This will be a negative thing for every business. We must make ends meet for the eight months of the winter season."
No one is immune from the hikes, consumer tax rises on the majority of goods up from 16 percent to 23 percent.