Russia rejects claims its 'anti-ISIL' airstrikes hit civilians and other rebels
Comments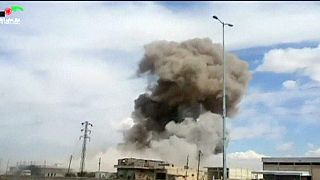 Update: Moscow says terrorist groups, not only ISIL, are targets
Russia's defence ministry claims its jets have carried out about 20 flights over Syria hitting eight ISIL targets in Moscow's most dramatic Middle East intervention in decades.
However, the US, France and local activists all claimed that the attacks were in areas occupied by other rebel groups opposed to the Assad regime.
The provinces of Homs and Hama appear to have been the main Russian focus while Syria's army launched an assault in Latakia province.
Российская авиационная группа, размещенная на сирийском аэродроме "Хмеймим", нанесла первые точечные удары по объектам международной террористической организации ИГИЛ.Самолеты ударной авиации, оснащенные современными комплексами поражения, нанесли удары по восьми объектам.Это склады оружия и боеприпасов, горюче-смазочных материалов, боевая техника, пункты управления, узлы связи, транспортные средства боевиков ИГИЛ.Все цели поражены.Такие объекты как командный пункт боевиков и штаб управления террористическими формированиями, находящиеся в горной местности, уничтожены полностью.#ВКС #ИГИЛ #ISIS #Сирия

Posted by Минобороны России on Wednesday, 30 September 2015
Although Russia claims not to have targeted civilian areas, video posted online by activists shows what they claim are casualties in Homs..
A spokesperson for the Western-backed Syrian political opposition Khalid Khoja said 36 people were killed in Wednesday's air raids..
"All those districts were fighting against Daesh and defeated ISIL and the other extreme groups a year ago. All the casualties, unfortunately, are civilians — including one from the white helmets (Syrian civil defense force) and five children."
Russian military video has been released claiming to show the destruction of an ISIL command post. But activists have counter claimed the area is controlled by an array of rebel groups under the banner of the "Free Syrian Army."
This video claims to show the aftermath of a stike in Talbiseh, although it is not possible to confirm whether Russian planes were involved:
Moscow's assertion that it has hit ISIL militants has been disputed not only by Syrian rebels but also by Washington. The raids have now raised the dangerous prospect of both Russia and the US running air strikes at the came time in the same region but without coordination.