Residents evacuated as huge sinkhole appears in St Albans near London
Comments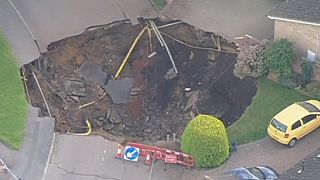 A huge sinkhole has appeared overnight in a British residential area.
Aerial footage shows extent of St Albans sinkhole http://t.co/sdHFu4T3Zypic.twitter.com/VdL8YZg7ie

— BBC News (UK) (@BBCNews) October 1, 2015
Authorities say five homes have been evacuated and 20 people are being housed in temporary accommodation.
Here is a picture of the sinkhole we attended. pic.twitter.com/PrE2hPFuPI

— Herts Fire Control (@HertsFRSControl) October 1, 2015
Residents say they heard a massive crash before the crater, 20 meters in diameter, appeared at Fontmell close in St Albans around 37 kilometers north of London.
The local council was made aware of a small hole in the pavement last week and it was due to be repaired .
Civil engineers are now assessing the situation, before work begins to fill in the 10m deep hole.