Mexico extradites 13 drug cartel suspects to US
Comments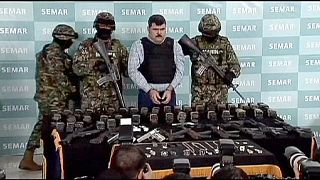 Mexico has handed over two high ranking cartel suspects to the US in the wake of last July's embarrassing prison escape by one of the county's most wanted men.
The two known as El Coss and La Barbie are part of a larger 13 strong extradition package.
The move is in contrast to Mexico's previous resistance to US requests.
.
Mexico's Director of Criminal Investigations, Tomas Zeron said:
"The 13 people extradited today are accused by the commission of various crimes. Amongst them are criminal association, drug trafficking, homicide, money laundering, importing firearms, and other crimes."
Mexico is still smarting from the escape of drug lord Joaquin "El Chapo" Guzman. He was top of the US's most wanted list but shortly after refusing to extradite him he broke out of jail and remains at large.
The Sinaloa Cartel has smuggled billions of dollars worth of drugs into the United States. http://t.co/XXi6AgwXe7

— Scrub & Shine (@ScrubShine) July 17, 2015