Costly clear up in China after Typhoon Dujuan hits Fujian
Comments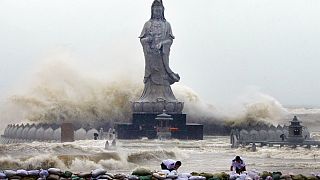 Chinese authorities face a huge clear up in the eastern province of Fujian after Typhoon Dujuan battered the coastal region.
Super Typhoon Dujuan Makes Landfall In Fujian http://t.co/zbBKIKZ9lhpic.twitter.com/HpgXklp3OR

— The Nanfang (@thenanfang) September 29, 2015
Hundreds of boats have been called back to shore and tourist attractions closed.

Deadly Typhoon Dujuan Batters China After Lashing Taiwan http://t.co/NUvUMymYwLpic.twitter.com/FTJsOyRE01

— #StormHour (@StormHour) September 29, 2015

Dujuan hit China after causing death and severe devastation in Taiwan.

#ajwamood : Xiamen in southeast #China's Fujian Province was affected by Typhoon Dujuan on Tuesday pic.twitter.com/voCW3DGYjN

— شبكة أجواء (@ajwamood) September 29, 2015

At its height winds reached speeds of 120 km an hour.

The nearby industrial powerhouse of Zhejiang was hit by towering waves and high gales.

The Fujian weather service says the storm has now lost strength, but rains are expected to continue.