Typhoon Dujuan batters China after deadly passage through Taiwan
Comments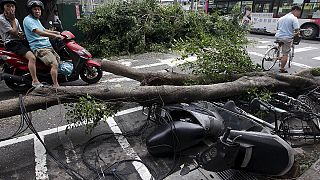 China has ordered tens of thousands of boats back to shore and closed tourist attractions as it faces a battering from Typhoon Dujuan which made landfall in Fujian province early on Tuesday.
Despite towering waves and strong gales, with maximum wind speeds said to have reached 120 km an hour, Dujuan has been weakening as it passes through the southeastern province.
On Monday, it was much more powerful as it unleashed its fury on Taiwan, with devastating results.
Amid the chaos of uprooted trees, road accidents and mudslides triggered by torrential rain, at least three people were reported dead and more than 300 others injured.
At one point, almost two million homes lost electricity.
Super typhoon kills three, injures hundreds in Taiwan, via @guardiannewshttp://t.co/3535xX4FJdpic.twitter.com/DU8C6mo8Pu

— Agence France-Presse (@AFP) September 29, 2015
Rock band Bon Jovi were forced to cancel a concert in the island's capital Taipei, and flood alerts were in effect through Tuesday morning prompting most cities across the island, including Taipei, to announce a typhoon holiday for Tuesday. Financial markets were closed.
Last month, Super typhoon Soudelor killed eight people in Taiwan and cut power to more than 4 million households.