Roma and Arsenal crash, Barcelona come back in latest Champions League clashes
Comments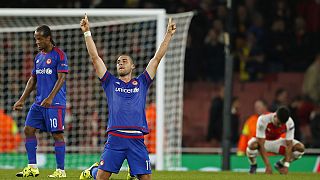 Goals galore in Europe on Tuesday night as the champions league came alive with surprises everywhere. In Group E Barcelona went in a goal down after the first half as Leverkusen stunned the home fans, and Roma were in an even worse position as BATE Borisov took three off them in the first. Barcelona turned the tables, the Italians did not.
In Group F Bayern made no slip-ups as they struck five past Dynamo Zagreb in an effortless demonstration of power with four in the first half and another hat-trick for Robert Lewandowski. Arsenal were cut down at home by Olympiakos, the Greeks silencing north London three-two.
In Group G Porto showed no nostalgia for Jose Maurinho, beating his Chelsea side two – one, while Dynamo Kyiv went to Tel Aviv and won two-nil.
Finally in Group H Lyon went down at home to Valencia by a single goal, and Zenit St Petersburg.beat Gent two-one at home.