Burkina Faso coup soldiers surrender
Comments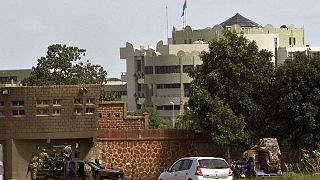 Fears that a bloodbath would ensue when members of Burkina Faso's presidential guard refused to disarm following a coup have not materialised.
Instead government troops met little resistance on Tuesday when they launched a mopping up operation on the camp where the elite unit or RSP had been holding out.
Despite earlier sounds of gunfire the area is now said to be under army control. The whereabouts of General Gilbert Diendere who led the coup is not known but its believed he had earlier urged the guard to surrender.
In fact most of the RSP ceded power last Wednesday after the army opposed the coup they staged a week earlier.
The reinstated government says it has now dissolved their unit which was loyal to former ruler Blaise Compaore who was ousted last year after a popular uprising.
Burkina Faso's interim government, led by President Michel Kafando has been restored to office although October elections are likely to be delayed.