Pope Francis calls for religious freedom on trip to Philadelphia
Comments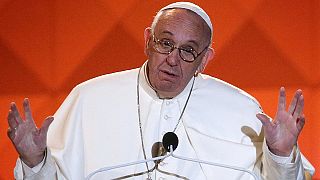 The penultimate day of Pope Francis' trip to the United States has taken him to Philadelphia were the pontiff offered words of support to immigrants in the country.
As has been the case during his US visit, Francis attracted a large crowd, estimated at over 40,000, at Independence Hall – the site where the country's independence was declared from Britain over 200 years ago.
The pontiff also said "in a world where there are various forms of modern tyranny seeking to suppress religious freedom or use religion as a pretext for hatred and brutality, it is imperative that the followers of various religions come together and call for peace."
Pope Francis topped off his Saturday by attending the Catholic Church's Festival of Families with the likes of music legend Aretha Franklin and Italian tenor Andrea Bocelli.
The pontiff will end his visit to the US with a mass in Philadelphia on Sunday where a crowd of around 1.5 million people is expected to attend.