Lewis Hamilton dominates in Suzuka at the Japanese Grand Prix
Comments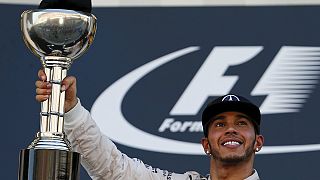 Lewis Hamilton said it felt "unreal" after taking the chequered flag in the Japanese Grand Prix. The win moved the 30-year-old British driver level with his boyhood hero Ayrton Senna on 41 race wins.
He started behind team mate Nico Roseberg but the German fell back after being forced wide by Hamilton as the two battled it out at the first two corners. But after that, and with a string of fastest laps Hamilton took control of a race he never looked likely to lose.
The German slipped down the field after the incident at the second corner and had to pilot his way through the traffic to finish in second. Four-time champion Sebastian Vettel had to settle for third place.
Hamilton is now 48 points clear of Rosberg in the title race.
Suzuka 1976
With its unique figure-of-eight layout and string of fast corners, the Suzuka circuit is viewed by many drivers as one of the most challenging Formula One circuits. The climax to the 1976 season in Japan stirs memories for many reasons. British driver James Hunt with his playboy image came to Suzuka with a chance of the title.
Nika Lauda was on the grid defying expectations that he would not race again that season after his near-fatal crash at the Nurburgring.
And then there was the weather, wet and fog. The race went ahead but it was too much for Lauda. Three points clear in the championship the Ferrari driver retired. "My life is worth more than a title" he was to say later.
James Hunt who had taken the lead in the first lap started to lose positions as the track dried. He only needed to finish fourth because of Lauda's retirement. In the end he was third to take his first and only World Drivers Championship.
Lorenzo closes gap in MotoGP's title race
MotoGP world champion Marc Marquez stormed to pole position for the Aragon Grand Prix by smashing his own circuit record at the MotorLand track in qualifying.
It was a Spaniard who claimed the title on home soil, not Marquez but Jorge Lorenzo.
He made his intentions clear from the start overtaking the world champion. And for the first two laps Marquez was chasing Jorge Lorenzo and the lead until he crashed out of the race.
It was the end of his day and now leaves the Repsol Honda rider 79 points adrift of the championship leader.
With Jorge Lorenzo comfortable in the lead the focus turned to the battle for second between Valentino Rossi – the championship leader – and Dani Pedrosa. Rossi made his move with five laps to go, but each time he overtook Pedrosa his rival would immediately regain his position.
On the last lap Pedrosa again came back to take second and held on to the finish. Lorenzo's victory means he narrowed the gap in the championship on Rossi to 14 points.