Gary Hunt wins Cliff Diving Championship in Bilbao
Comments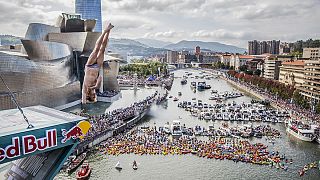 Great Britain's Gary Hunt won this season's Red Bull Cliff Diving Championship.
He had already sealed the title before the 50th event in seven years of the series brought the season to an end in Bilbao.
Competitors had a spectacular view of the iconic Guggenheim Museum while spectators watched from the banks of the Nervion river and packed into boats on the water.
The divers launched themselves from a 27.5 metre platform on the city's 'Prince and Princess of Spain Bridge' popularly known as La Salve bridge.
The winner in Bilbao was Steven LoBue with a daring dive of five front somersaults and a half twist pike. It was the first win of the season for the Florida-based diver and the third of his career.