France airstrikes hit ISIL targets in Syria
Comments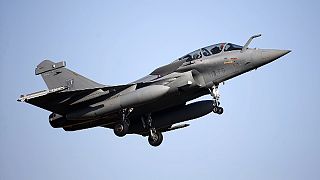 France says it has launched its first air strikes against ISIL militants in Syria, expanding its bombing campaign from neighbouring Iraq against the group.
France had up until now abstained from intervening militarily in Syria since the civil war began there, feeling that to do so would work in President Assad's favour.
French President Francois Hollande announced earlier this month that France would began reconnaissance flights over Syria to gather information on ISIL positions.
The president's office said in a statement that the airstrikes hit targets identified over the last fortnight.