Pope ends busy day in New York with mass at Madison Square Garden
Comments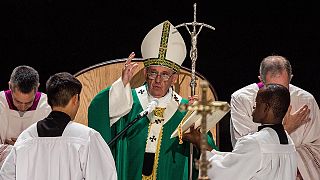 Day four of Pope Francis' visit to the United States has proven to be his most hectic.
The pontiff arrived at New York's famous Madison Square Garden on Friday evening after taking a trip through Central Park where a crowd of over 80,000 people turned out to see him.
Speaking to a packed arena, Pope Francis said "foreigners, their children who don't receive a proper education, those deprived of medical insurance, the homeless and the forgotten elderly are all becoming part of an urban landscape that slowly but surely we're getting used to seeing and feeling in our hearts."
Earlier in the day, the pontiff called for unity at the September 11 Memorial in a multi-faith service in the presence of nearly two dozen relatives of victims of the terror attacks in 2001.
Francis later visited the 9/11 Museum.
The Pope's day began with a speech to the United Nations General Assembly in which he called on world leaders to eliminate nuclear weapons and praised the recent Iranian nuclear deal.
The final leg of the pontiff's US trip will take him to Philadelphia this weekend.