Iran to take legal action against Saudi Arabia over Hajj deaths
Comments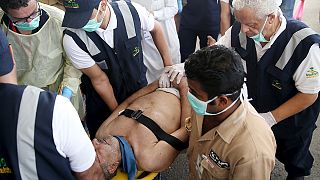 Thousands of Iranian protesters took to the streets of towns and cities across the country to condemn the Saudi government over the deaths of hundreds of Hajj pilgrims in a stampede near Mecca earlier this week.
Over 130 Iranians were among the over 750 people who died.
Meanwhile, Iran's state prosecutor, Seyed Ebrahim Raisi, has announced he will pursue legal action against Saudi Arabia's rulers over the deaths, saying "the incident is prosecutable according to international law and the Saudi royal family must be held responsible." He added that they "will pursue a trial for the crimes they have committed against the Hajj pilgrims through international courts and organisations."
Saudi authorities are believed to have blocked a road used by hajj pilgrims to allow a royal convoy to pass through, causing the deadly convergence of two groups of pilgrims going in opposite directions.
Saudi Arabia has said the tragedy was beyond human control but the country's king has ordered a safety review into the disaster.