Handicap International's 'shoe mountains' target Syrian landmines
Comments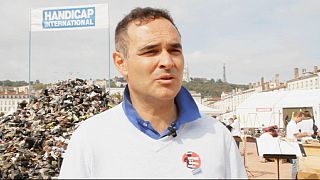 They are a symbolic gesture of support for the victims of landmines and cluster bombs.
Lyon was one of around twenty French cities to stage the annual "Shoe Pyramid", organised by Handicap International.
Similar events are organised annually in other countries such as the UK.
People are invited to throw onto the pile old pairs of shoes for re-use by people in need. The shoe mountains are also about raising awareness of the threat to civilians around the world from explosives.
The emphasis this year is on Syria, and in particular the border city of Kobane where Handicap International has begun operating again.
Speaking from Place Bellecour in Lyon, Handicap International's Managing Director Manuel Patrouillard said: "We don't operate at the moment in places held by the Islamic State group, however we are in Kobane. There we are mine-clearing. There are about 10 munitions per square metre in Kobane. And if we want to give a small chance to people to be able to go back and live there, we must make an absolute priority of cleaning up these areas and give these people a second chance."
Handicap International says more than 120,000 people who had fled the fighting in the border city with Turkey have since returned.
Thousands have been made aware of landmines but much more work needs to be done.
The charity says its workers have rarely seen such danger from the leftovers of war.