Ukraine to ban flights by Russian airlines in new wave of sanctions
Comments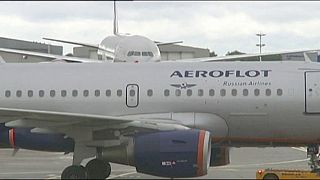 Ukraine is set to introduce a ban on flights by Russian airlines from October 25, as part of a wave of sanctions against Moscow for its support of separatists in eastern regions of the country.
Kyiv said it was imposing the restrictions on more than 90 mostly Russian companies.
Moscow has responded by threatening to impose similar restrictions on Ukrainian carriers.
Ukraine's prime minister, Arseniy Yatseniuk, made the shock announcement at a government meeting saying: "Russian planes with the Russian flag have no place in Ukrainian airports. With regard to the air and railway transit of cargo: Russian airlines through Ukrainian airspace have been banned if they contain military hardware or troops."
Despite the ongoing conflict in eastern Ukraine and strained relations between Moscow and Kyiv, air and rail connections have remained in place due to strong economic and personal ties between Russia and Ukraine.
Euronews' correspondent, Dmytro Polonsky, explained that "the ban will take effect on October 25 and there's no information yet as to whether the affected flights will be replaced." He added, "there is a real concern that Russia will introduce similar sanctions against Ukrainian airlines leaving Ukraine and Russia with air connection."