One Syrian family finds their problems are not over in Germany
Comments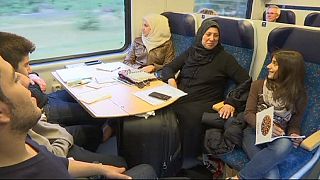 Germany. The promised land for most refugees coming to Europe, who are ready to risk their lives to get there. Except that reality is proving very different.
One family discovered they were being moved to east Germany, to Heidenau near Dresden. They didn't want to go, but they didn't want to try and play the system in their new home.
"There was an idea of tearing up the papers and applying again from the beginning like other people are doing, but I do not want to do anything illegal. That is our fate, we will persevere until we are granted residency and then we can choose a good place for my children, for schools and university," said the widowed mother, Khawla Kareem Habashieh.
East Germany is poorer, with fewer job opportunities, and less welcoming to strangers. And home for many is on-the-edge-of-town vacant superstores where hundreds of men, women and children are together. Some fear to stray too far outside, as there have been assaults.
"The unhealthy situation, it's a closed place with no windows, it's not good for even a human being to be in there, the shared bathrooms, it's very gross, very disgusting and it is not enough, there are only four cabins for all women in there and I think there are about 700 people in there," says eldest daughter Reem.
Lack of language and other skills means it may be years before many find jobs. Integration for the one million new faces expected this year will take time.