#VWGate - automotive industry crisis rocks Germany
Comments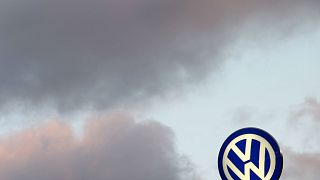 The emissions scandal that has shaken Volkswagen Group is to undermine the image of the German firm and threaten the country's economy.
The resignation of CEO Martin Winterkorn will not calm the storm and more employees are likely to follow the ex-chief out the door. On social networks, the famous slogan of the brand, Das Auto, has been the subject of heavy criticism, and the scandal has been given the Twitter hashtag of #VWGate. The firm faces many a bad joke and has a huge task to tackle – that of regaining investor and consumer confidence.
In 2011, Environmental group Greenpeace showcased its VW: The Dark Side ad when Volkswagen opposed key European climate change laws. To sign their petition Europe vs CO2 "to join the thousands who believe in cutting new car pollution", click here.
.Volkswagen</a> could pose bigger threat to German economy than Greek crisis.&#10;<a href="http://t.co/aK42ca3F8W">http://t.co/aK42ca3F8W</a>&#10;<a href="https://twitter.com/hashtag/ausbiz?src=hash">#ausbiz</a> <a href="https://twitter.com/hashtag/VWGate?src=hash">#VWGate</a> <a href="http://t.co/H9X71N0I2p">pic.twitter.com/H9X71N0I2p</a></p>&mdash; Financial Review (FinancialReview) September 24, 2015
Primi effetti del #VWgate, risorge la DDR#Volkswagen#dieselgatepic.twitter.com/bqPRp9JI3t

— Keynes blog (@Keynesblog) September 23, 2015
"..Germans make the rules and don't break the rules.." via dwnews</a>. Hey <a href="https://twitter.com/Volkswagen">Volkswagen,vwpress_en</a>, your car is <a href="https://twitter.com/hashtag/DasAuto?src=hash">#DasAuto</a> <a href="http://t.co/BhNxVD3K3q">pic.twitter.com/BhNxVD3K3q</a></p>&mdash; MaricelitA (M_aricelit_A) September 23, 2015
9/22/2015- #Volkswagen caught cheating emissions testing #VW#VWGate#EPApic.twitter.com/vHsioKGcac

— Clay Bennett (@BennettCartoons) September 22, 2015
For Germans, #VW crisis is a national scandal | justinhuggler</a> <a href="http://t.co/bXtAIIC6Fs">http://t.co/bXtAIIC6Fs</a> <a href="https://twitter.com/hashtag/VWGate?src=hash">#VWGate</a> <a href="http://t.co/5Qg7frcc8C">pic.twitter.com/5Qg7frcc8C</a></p>&mdash; The Telegraph (Telegraph) September 23, 2015
Given the gargantuan Volkswagen</a> emissions fraud, I&#39;m starting to wonder if Herbie was even a true story!? <a href="https://twitter.com/hashtag/VWGate?src=hash">#VWGate</a> <a href="http://t.co/V1HZmWCxMc">pic.twitter.com/V1HZmWCxMc</a></p>&mdash; James Mitchinson (JayMitchinson) September 24, 2015
Have a nice day, VW! :* pic.twitter.com/ljck1gLqqI

— Michał Nierebiński (@loyolny) September 24, 2015
Good morning from London. Our most read now is 'VW's deception is a warning to every company' http://t.co/KCKgfnOddcpic.twitter.com/TqmOPpX78O

— Financial Times (@FT) September 24, 2015
Ready for our leisurely Sunday drive #VW#TDI#dieselgate#diesel#Volkswagenpic.twitter.com/SEJ2dOxA56

— Sean Bennell (@Scorchez) September 21, 2015
Video statement from Volkswagen CEO Martin Winterkorn:
Video statement of Prof. Dr. Martin Winterkorn: https://t.co/htUtPC1iWM

— Volkswagen (@Volkswagen) September 22, 2015