Austria returns migrants to point of entry into Europe to register
Comments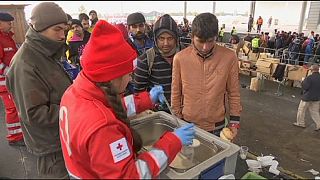 Migrants attempting to move through the EU to the country of their choice face disappointment, as Austria and Germany have reestablished rules requiring asylum seekers to register at the point of entry.

AUSTRIA: Over 6000 Refugees Arrive In Austria - Johanna Mikl-Leitner - http://t.co/zFd05jen0L - ... pic.twitter.com/b9ex5Ba1Wg

— Politicoscope (@Politicoscope) September 5, 2015
As the exodus to Europe from mainly Syria, Iraq and Afghanistan continues Austria is now sending asylum seekers back to where they first entered Europe.
Austrian Interior Minister, Johanna Mikl-Leitner said:
"If I remember the numbers rightly, we have sent more than 5,000 or 5,500 back from Austria, especially to Bulgaria and Romania among others."

Ministar #mupRH Ranko Ostojić dočekao je austrijsku kolegicu Johanne Mikl-Leitner cc @MFA_Austriapic.twitter.com/xgmHdMeGS2

— Vlada R. Hrvatske (@VladaRH) February 18, 2015
Mikl-Leitner intimated that safety is one thing choice is another.
Migrants keep coming as Angela Merkel tells EU to do more http://t.co/E3S5rI2r1ppic.twitter.com/rsHdbV4GZ6

— NDTV (@ndtv) September 24, 2015
German Chancellor Angela Merkel believes a solution is far away, but the first steps are in place: "A redistribution can only work if we arrive at a consistent registration process at the EU's external borders verifying the need for protection of incoming refugees. I am deeply convinced that Europe doesn't just need redistribution now, but rather a permanent process for a fair distribution of the refugees in the member states."
On Tuesday EU ministers supported mandatory quotas to divide up the asylum seekers among member states.
The vote was passed only by majority sparking fierce opposition from some nations, with Slovenia launching a legal challenge.