Sam Cane to captain All Blacks for clash with Namibia
Comments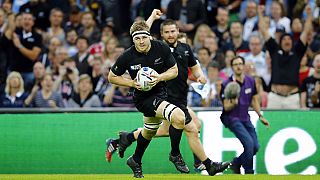 The All Blacks had a final run out before their second match of the tournament – a clash with competition minnows Namibia.
The coach has made 12 changes to the line up after their opening and at times nervous win over Argentina.
Sam Cane comes in at flanker and will captain the side for the first time in his career. But the changes are not because the coach believes Namibia will be a walk over.
"We'll give Namibia total respect because that's what they deserve as another playing nation. Rugby is a funny thing, sports a funny thing, as you pointed out, if youi don't prepare properly then you can get a hiding.
'You can't expect people to play a physical game like rugby and be ready four days later without playing a price for it later on. We've tried to use the whole squad, we've got a lot of confidence in the whole squad," Steve Hansen told reporters.
It should be a lopsided affair against the Namibians the lowest ranked team in the World Cup. They have few professionals in their squad which includes a dentist, some farmers and a diamond trader.
New Zealand are aiming to become the first country to win back-to -back World Cups and almost a week into the tournament remain favourites.