Xi Jinping arrives in the US for week-long state visit
Comments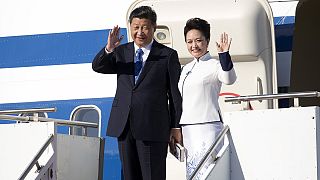 Chinese President Xi Jinping has arrived in the United States to begin a a week-long visit that will culminate in an address to the UN General Assembly.
He landed in Washington state where he will begin official business with a visit to Boeing in Seattle, where the planemaker is expected to confirm it is to build a factory in China.
The three-day Seattle leg of the trip includes a visit to the Microsoft campus, and a meeting with top business leaders. He will also make the only policy speech of the state visit before heading to Washington for a black-tie banquet at the White House.
He will also meet the leaders of several West Coast states which have developed economic relations with China.
Top of the political agenda will be continuing American concerns about alleged Chinese cyberattacks on US firms and organisations, and security in the South China sea where there are several territorial disputes.
In Washington the Newseum, which champions liberty of expression, is readying a display in protest against the lack of press freedoms in China.