Volkswagen CEO in eye of emissions scandal storm
Comments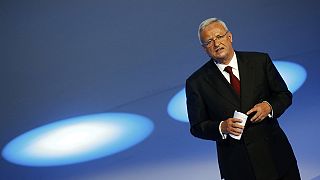 Volkswagen CEO Martin Winterkorn is in the eye of the storm as the German automaker weathers a huge diesel emissions scandal.
The VW supervisory board is expected to meet on Friday to discuss falsified tests and sham software, which could affect as many as eleven million cars.
German media predicts Winterkorn's departure from the company will be announced shortly after. He made no mention of his future in an apology addressed to clients and employees.
"To be quite clear, manipulation at Volkswagen must never happen again. Ladies and gentlemen, millions of people around the world trust our brand, our cars and technologies. I will never cease to be sorry that we betrayed that trust," said Winterkorn.
The US, South Korea, Italy and Germany are among the countries to have launched investigations into the company's conduct. VW could face billions of dollars in penalties in the US, with regulators claiming they were misled for a year.
"Volkswagen has given assurances it will fully cooperate with all measures taken. At the same time, we have established a commission which will investigate whether the vehicles concerned have been built and checked in compliance with German and European laws," said Germany's Transport Minister, Alexander Dobrindt.
In a statement on its website, the automaker says it is "working at full speed to clarify irregularities."