Unease grows over Russian presence in Syria
Comments
By
Euronews
with
STRATFOR, FINANCIAL TIMES, REUTERS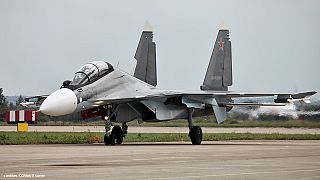 Satellite images have been released purporting to show the build up of Russian aircraft at a military airfield in Syria.
According to the US geopolitical intelligence gathering firm Stratfor, Russia has already started flying drones on surveillance missions.
The Financial Times also says Moscow is to deploy 2,000 personal and 28 combat aircraft.
Most Russian activity appears to be restricted to the airbase near Latakia and the port of Tartus, which is a Russian base that dates from the Cold War when the current Syrian president's father was in power. However there is also said to be evidence that runways are being extended at Hamimim and Hamidya, so bigger planes can bring in supplies.
The military deployments in Syria have alarmed Israel whose Prime Minister Benjamin Netanyahu paid a lighting trip to see President Vladimir Putin. Agreement was reached on coordinating military actions to avoid accidently trading fire.
Putin says the arms are to defend the Syrian state against
ISIL
but the West opposes Moscow's support for Syrian President Bashar al Assad seeing him as a driving force in the country's four-and a half year civil war.
Russia has deployed surface-to-air missiles, planes with air-to-air missiles in #Syria, U.S. says. SA-22 at Latakia. http://t.co/5APccw8HIN

— Michael R. Gordon (@gordonnyt) September 19, 2015