Scuffles in Croatia as it struggles to cope with 30,000 migrants in a week
Comments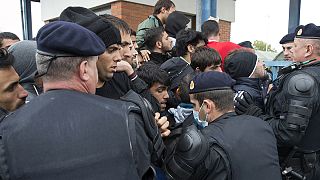 There have been chaotic scenes in Croatia, with authorities overwhelmed after some 3,000 asylum seekers arrived at a transit camp overnight on Monday.
In the past week, more than 30,000 migrants, many of them Syrian refugees, have
crossed into Croatia from Serbia, taking this route after Hungary blocked them from entering its territory with a metal fence.
Given such a massive and rapid influx, conditions at the Opatovac Reception Centre near Croatia's border with Serbia are difficult.
"In Greece, Macedonia and Serbia, you can find the Red Cross, you find a lot of people," said Mohammad, a Sryian refugee.
"They have blankets for kids, for women. Here, nobody."
#migrantcrisis: A woman carries her child as she walks towards the Serbia-Croatia border. Photo @armend_nimanipic.twitter.com/Yf7YUsMRa0

— AFP Photo Department (@AFPphoto) 20 Septembre 2015
Fast losing control, Croatia has taken to sending migrants by bus and train across its own border with Hungary, which has waved them on to Austria.
Croatia – the EU's newest member – has now halted all cargo traffic from Serbia, triggering a 12 kilometre long queue of lorries on the Serbian side of the border.
This, in turn, has sparked an angry reaction from Serbia, which has threatened to retaliate with counter-measures.