Osborne outlines plan to link UK-China stock markets
Comments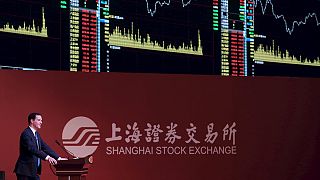 Details of plans to link British and Chinese stock markets have been unveiled.
It means British and Chinese shares could be traded in both nations.
The British Chancellor of the Exchequer (finance minister) has championed London's bid to dominate offshore yuan trading in Europe.
Speaking at the Shanghai Stock Exchange, George Osborne said Britain and China would stick together despite market turmoil.
"I want to see our stock markets, in London and in Shanghai, formally connected, with UK firms raising funds from Chinese savers, and Chinese firms listing in London.Connecting our stock exchange means more jobs, more investment, higher living standards, in both our countries. A win – a win for China, and a win for Britain," Osborne said.
A formal link with London would mark a further step in opening up China's markets – and could allow domestic Chinese access to a wide range of British and European stocks.
But potential obstacles include regulatory challenges and lukewarm international investors following China's market troubles.
A linked scheme between Shanghai and Hong Kong, launched last year, has failed to boost investment.