Londoners meditate on World Peace Day
Comments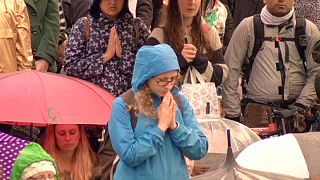 For thirty minutes London's Trafalgar Square became a centre of calm on Monday as hundreds observed September 21st as International Day of Peace.
Under the city's ubiquitous rain clouds people sat in silence meditating and devoting half-an-hour to strengthening the ideals of peace both within and among all nations and people.
"One thing I found very fantastic about the event is how you had a lot of people you maybe wouldn't expect here so the diversity of people was great, and I think that this goes to show that you shouldn't judge people before hand, and you can see that we all can come here together, and gather and then create this amazing atmosphere," said one participant.
"I was basically amazed that so many people have turned up," said another. "I thought with the rain maybe people wouldn't be motivated but…. It was just great to see a huge crown here, and… I don't know if you've noticed but at the end the rainbow came out, and everyone was amazed. It came out at 7 o'clock when we've finished."
The annual event was set up in 1981 by the United Nations calling on all countries to stop fighting for one day – for most people in London it looked like an ideal opportunity to establish friendships.