Army says ready to attack Burkina coup forces in support of toppled government
Comments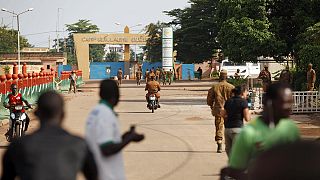 Burkina Faso's loyalist army units, which have bottled up the ruling junta's forces inside an army base in the capital, Ouagadougou, say they are preparing to storm the complex.
The coup leaders, who seized power last week, say they will fight back, and insist they are within their rights to wait for the end of the West African ECOWAS summit being held in Nigeria.
The army appears to have the support of the population, Crowds are gathering outside the barracks to witness the outcome for coup leader General Diendere and his men.
ECOWAS has offered them an amnesty if they lay down their arms and restore power to the legitimate government, but that has angered many people who want to see them punished. This has led to some protests against the regional grouping breaking out on the streets.
The coup derailed a democratic transition process and has been widely condemned in Burkina Faso's media, one of the freest and liveliest on the African continent.