Turkey's PM calls on Syrian migrants to end protest near Greek border
Comments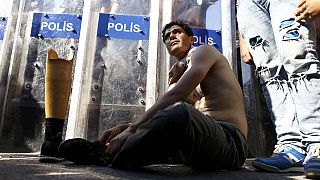 Turkey's prime minister is calling on Syrian migrants to end a protest in the city of Edirne, near the country's border with Greece.
Thousands have been left waiting at an outdoor sports arena, after being stopped from an advancing towards the frontier on Friday.
Ahmet Davutoglu has been meeting representatives of the refugees and members of the Syrian opposition.
"After this visit, I will write a personal letter to government heads in Europe and I will tell them of your problems – and I will make an international call for Syrian migrants," he told those gathered in Ankara.
Hundreds of thousands of migrants have made it to Greece by sea. But a spiralling death toll has put many off from making the perilous crossing and they are now heading for the land borders instead.