Singapore sling Vettel wins at Marina Bay Circuit
Comments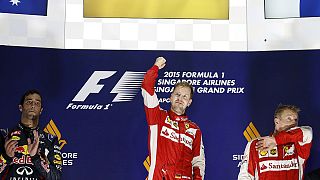 Euronews speed addict Bruno Sousa leads us through the weekend's F1 events.
"Hello and welcome to 'Speed.' This week all eyes focused on the Marina Bay Circuit for the Singapore Grand Prix.
Pole position is vital in the Singapore street race and so it proved once again with Sebastien Vettel winning from the front in the Ferrari.
The Race
As Vettel climbed into the Ferrari cockpit he knew if he kept cool and drove his race he would have a good chance of winning at Marina Bay.
Overtaking at Singapore is possible, but difficult.
The finger returns: an elated #SebastianVettel celebrates his third Ferrari win after dominating the @F1NightRace#F1pic.twitter.com/f8LorcSXkE

— sutton-images.com (@suttonimages) September 20, 2015
And low and behold that's just what happened. The German kept his nose in front throughout to claim his 4th victory at Singapore and his third F1 win of the season.
After starting fifth championship leader Lewis Hamilton's night turned sour after a power failure on lap 34 meant the Mercedes failed to finish for the first time this season.
"These tyres for some reason not working on our car" - Hamilton: http://t.co/IpnbMlpuAo#F1#SingaporeGPpic.twitter.com/RvTHICxDod

— F1 Fanatic (@f1fanatic_co_uk) September 20, 2015
Vettel and Ferrari get a much needed boost with a very fine victory.
Crashgate
On September 28, 2008, the Marina Bay Circuit, Singapore hosted the first ever night race in the history of Formula 1. However, the Grand Prix is remembered for something else…skullduggery.
Fernando Alonso won the race for Renault from 15th on the grid. But in 2009 it emerged that Nelson Piquet Jr had crashed on purpose, following team instructions to assist Alonso to win the race.
Today in '09, Flavio Briatore and Pat Symonds resign at Renault as a result of the 'crash gate' scandal. pic.twitter.com/VDJGQmaXqm

— Retro Racing Company (@RetroRacingCo) September 16, 2014
Team principal Flavio Briatore and chief engineer Pat Symonds were handed bans and Renault were disqualified from racing, suspended for two years. Briatore and
Symonds sued FIA in French courts, and on January 5, 2010, the Tribunal de Grande Instance overturned the bans.
Red Bull lock horns with Renault
Red Bull racing has been a key component in the F1 scene since 2005.
In 2007 they formed a succesful partnership with Renault, which garnered four consecutive world titles both drivers and constructors.
Those days appear over, and Red Bull has had its wings clipped.
Renault has announced that it no longer wishes to be an engine supplier and is renegotiating its contact with Red Bull.
Red Bull has said it wants the contract terminated a year early and is trying to persuade Ferrari to provide the power for 2016 after Mercedes refused.
Red Bull barbs at Renault over the past 18-months have irritated Renault and the engine supplier called in question Red Bulls decency claiming races are won and lost together.
Time passes in the blink of an eye…so we say goodbye and leave you with the best images from the Circuit of the Americas. Its a second straight win for the Porsche of Timo Bernhard, Mark Webber and Brendon Hartley in the World endurance championship.
The #Porsche 919 Hybrid (17), Porsche Team car of Timo Bernhard, Mark Webber and Brendon Hartley #LeMans24hpic.twitter.com/0C1fXQswjr

— European Motor News (@EMN) June 8, 2015
See you next week."