Whinging Wenger and Morose Mourinho, again
Comments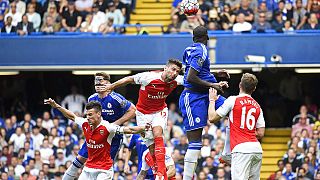 Once again a Chelsea and Arsenal match has descended into farce including behaviour unbecoming of grown men, never mind professional athletes.
Arsene Wenger saw his players fall victim to the irritating wind-up tactics of Chelsea's Diego Costa.
Arsenal defender Gabriel saw red after kicking out at Costa.
Arsenal manager Arsene Wenger was furious with Costa and the referee:
"I think it's unacceptable his behaviour. If you look at the pictures what he does to (Laurent) Koscielny before, he pushes him down in the face, he hits him in the face, before the fall and he gets always away with it. It's quite honestly surprising. I don't understand referee Mike Dean's decision at all, not on the sending off, why does Diego Costa stay on the pitch?"
Diego Costa helping Koscielny protect his eyes from the burning sun. This is fair play at it's best. pic.twitter.com/NJ57SXMb3m

— FOOTBALL NEWS (@_FootyTalk_) September 19, 2015
Arsene Wenger calls for an FA investigation into Diego Costa http://t.co/zrYJUKZIXK#CHEARS#CFCvAFCpic.twitter.com/EmEoqGBQet

— BBC Sport (@BBCSport) September 19, 2015
Diego Costa coming off, Arsene Wenger waiting for him like... pic.twitter.com/4yRpFhaOfL

— TheSPORTbible (@TSBible) September 19, 2015
Arsenal then saw Santi Carzola sent off in a more conventional manner after a foul on Cesc Fabregas.
Jose Mourinho was hardly going to be complementary in his post-match analysis: "I played against Arsenal I don't know 12, 15, 18 times I don't know, and only once he didn't moan, and in that day we lost the game, we lost the cup, it was not good for us, we behave in a fantastic way, no excuses, not crying, not moaning, just Mr Jose Mourinho my players and Chelsea football club."
WATCH: Jose Mourinho names controversial Diego Costa Man of the Match and ridicules reporter. http://t.co/OBL2X9UJQEpic.twitter.com/YKhwGWQdWP

— Sky Sports Football (@SkyFootball) September 19, 2015
Chelsea won 2-0 by the way, but the news is whinging Wenger and morose Mourinho, two men at the top of their profession.
Expensive tedium.