Former Greek PM Tsipras speaks of victory at final election campaign rally
Comments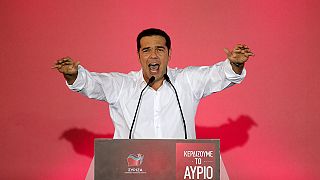 Former Greek prime minister and Syriza party leader Alexis Tsipras says he is confident of re-election.
He has been taking to the stage in Athens for the final campaign rally ahead of tomorrow's snap election.
After a tight election campaign, with polls showing Syriza and its conservative rival New Democracy neck and neck, Tsipras was leading in six polls released on Friday.
"I will vote Alexis because he is young. He will fix the economy and he will help the youth of my country," said one supporter.
"And I ask all young people to vote for him because Syriza is the best solution for Greece."
Pablo Iglesias, from Spain's Podemos party and French Communist Party Leader Pierre Laurent joined the rally.
The result of the election is seen as crucial beyond Greece, which nearly exited the euro zone.
Whoever wins, a coalition will almost certainly be needed.
Euronews reporter Apostolos Staikos said: "The campaign curtain falls here, at Syntagma Square, with Tsipras asking for a second chance. The Syriza leader says the sacrifices of Greeks won't go to waste.
"But whoever is the winner, he should be supported by other political forces in order to implement the third memorandum."