Greek elections: New Democracy calls for end to 'dangerous Syriza experiment'
Comments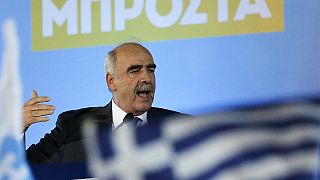 The leader of Greece's conservative New Democracy party has used his final speech before Sunday's snap elections to call for an end to what he describes as the "dangerous Syriza experiment."
The only thing new that Syriza introduced was capital controls, which struck a knife in our dignity
Evangelos Meimarakis took to the stage at a rally in central Athens.
"The only thing new that Syriza introduced was capital controls," he told the crowd of supporters.
"Which stuck a knife in our dignity, which completely asphyxiated the economy and humiliated our businesses."
A total of 14 parties and five coalitions are set to battle it out in the poll. New Democracy is among the front-runners.
One woman at the rally said Meimarakis has great knowledge in politics.
"He has a very positive attitude. He is humane and this attracts more voters to our party" she added.
Another woman added: "A huge change is coming. Not only in society, in the internal and external politics, but also in education – and that's important for me as a student."
"We have to get back to the normal life we had before January, to minimise the mistakes. We can't afford any more populism. We don't have time for experiments," said a man at the rally.
Euronews correspondent Kostas Tsellos described "optimism" as being back in the New Democracy camp.
"According to recent polls, the new party leader Meimarakis now seems capable of completing a mission, considered almost impossible a few weeks ago. To break the political hegemony of Syriza and Alexis Tsipras," he said.