Efforts to save the Iranian cheetah take off!
Comments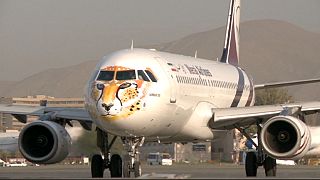 The Asiatic or Iranian cheetah is one of the most endangered big cats on earth.
To highlight its plight internationally, Iran's Meraj Airlines has painted the face of the dwindling species on the nose of two of its planes.
The initiative has captured the imagination of passengers and commercial rivals.
"It was so appealing to domestic and foreign airlines that they even congratulated us on this," said Captain Ali Mehr Avar, the airline's Assistant Commercial Manager.
"Maybe this work is a starting point for other airlines to highlight their national environmental issues and promote their names".
Only dozens of Asiatic cheetahs remain, all of them in Iran. A subspecies of the cheetah, the race cars of the animal kingdom, these magnificent creatures have been hit by illegal hunting and other perils.
It is hoped that giving their story this high-flying profile will help global efforts to save the big cat take off.
Our correspondent in Tehran, Javad Montazeri, says: "The pictures of the fastest animal on land have been painted on these two planes while environmental supporters and observers have witnessed the extinction of the Iranian lion and Persian tiger.
"They know that if they don't do anything now, apart from images, there will be nothing left for future generations."
August 31 has been designated National Cheetah Day in Iran to raise awareness of conservation issues.
Today is the national day of Iranian Cheetah in #Iran To remember that the destiny of #AsiaticCheetah is in our hands pic.twitter.com/4q7m4qQJil

— Iranian Cheetah (@IranianCheetah) August 31, 2015