Dettmar Cramer revered Bayern coach dies at 90
Comments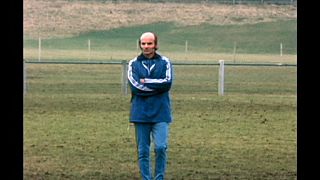 The man with a fully functional football brain Dettmar Cramer has died at the age of 90.
Cramer, known as the 'Football Professor' led Bayern Munich to two European Cup triumphs in the mid-70's.
He nurtured the Bayern side that included Franz Beckenbauer, Sepp Maier and Gerd Muller.
Cramer went on to coach Eintracht Frankfurt, Herta Berlin and Bayer Leverkusen in his native Germany.
This picture is priceless ( Dettmar Cramer ) Credit: fc bayern munchen is in my Dna pic.twitter.com/EWFKIFgv2Z

— FC Bayern Kingdom (@Hazem2001Sameh) September 18, 2015
He then passed on his experience as a German FA and Fifa coach in 90 countries.
"Mehr als nur eine sportliche Bezugsperson." Trauer um Dettmar Cramer: http://t.co/9oEB2Ujhs6pic.twitter.com/PEh5yqmVbV

— FC Bayern München (@FCBayern) 18 Septembre 2015
Bayern posted that "FC Bayern mourns the loss of a great coach and special individual."