Utah: flash flooding claims at least 15 lives
Comments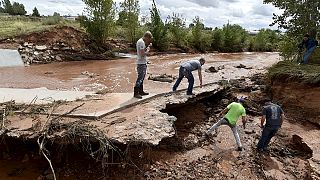 Search and rescue teams are still looking for possible victims after flash flooding swept away two vehicles in the town of Hildale on the Utah-Arizona border.
At least 15 people are known to have died including three tourists who were caught up in the flood waters as they went exploring canyons in the nearby Zion national park.
One child still missing. 12 bodies recovered after yesterday's flash flood in Hildale.Car seat in mud breaks my heart pic.twitter.com/fMmoN047L5

— Alana Brophy (@AlanaBrophyNews) September 16, 2015
On Tuesday earth movers began clearing the roads as a crowd of boys in jeans and girls and women in traditional prairie dresses watched the rescue effort.
The area is home to a polygamous fundamentalist sect whose members tend to have little contact with outsiders.
The height of the storm lasted about 30 minutes, pouring around three centimetres of rain into a desert-like landscape with little vegetation and many steep slopes.
Although raging torrents are not uncommon in a region prone to flash floods, the volume and pace of the the rain has been described as a "100-year event".
With more rain forecast a flood watch is being maintained.