US floods: At least 16 dead in Utah
Comments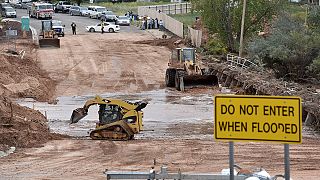 At least 16 people have died in flash floods in a rural community in the mid-western United States.
One person is still missing in the town of Hildale on the Utah border with Arizona.
12 of the dead were from two families whose vehicles were swept away. Three children survived.
Eyewitnesses described the desperate rescue attempt:
"The emergency services pierced the airbags and pulled them out and inside it was a jumble of arms and legs. The rescue workers said they could not find a pulse. We were hoping there was someone inside who was still alive. I knew it was likely to be people I know as they are from the area."
Four hikers also died when the water swept through a gulley in a nearby national park.
The tragedy came after heavy rains flooded dry canyons north of the town.
The area is home to The Fundamentalist Church of the Latter Day Saints, a polygamous sect whose members tend to have little contact with the outside world.