Turkey taking care stopping Aegean Sea refugees
Comments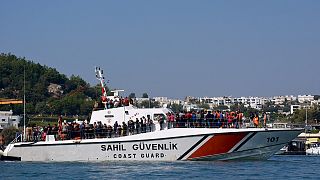 Near the tiny village of Behramkale, refugees from Syria leave the Turkish coast and cross the Aegean Sea, heading for the Greek island of Lesbos. Spending just a few hours on the launch beaches is enough to see the departures are constant. So are the patrols.
I suppose it might stop when the weather gets worse.
Our correspondent Bora Bayraktar went along on one, reporting that the refugee boats will speed for Greek territorial waters while the Turkish Coast Guard tries to intercept them, in an area around eight kilometres wide and 100 kilometres long.
Smugglers bring the refugees to rock-ringed beaches where they can spend days waiting. Deflated boats and life buoys are reminders of failed attempts. The refuse they leave behind angers local residents, who complain that tourists have stopped coming.
One resident told us: "It has been going on for three months. Every day, 10 to 15 boats set off. I suppose it might stop when the weather gets worse."
Stopping the refugees requires great care to avoid harm. If a vessel is swamped or flips, then small children, anyone who cannot swim, risks drowning.
The refugees do not want to be rescued, they want to reach Lesbos.
The crews make as many as eight sorties each day. After a boat is stopped, refugees are transferred with caution. The children are frightened, the adults disappointed and reluctant to obey orders, with their journey cut short. They say they will try again. The Coast Guard returns to port to hand the refugees over to local police to be registered.
Bayraktar said: "After intercepting a group of 45 people and taking them on board, the Coast Guard came across another boat. They didn't want to stop, but soon they will also be apprehended."
This year, the Coast Guard says it has stopped nearly 50,000 refugees from crossing to Greece. For this it has two ships, 78 smaller vessels, 11 helicopters, three planes and 2,000 personnel.
First Lieutenant Uğur Özdoğan told us: "In most of our irregular migration activity we see a lot of boats adrift at sea with their engines broken down. We also see that too many people are forced into these boats, with no idea about sailing. In case of a problem, they panic."
A recent Turkish law requires refugees to stay where they are registered. It is too soon to tell if that will stop them from trying to reach Greece.