Palestinian hunger striker Mohammed Allan returned to Israeli prison
Comments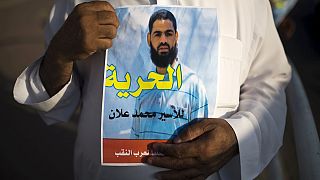 Israeli authorities have returned Palestinian detainee Mohammed Allan to prison, following a stint in hospital.
Allan was being treated for brain damage caused by a 65-day hunger strike to protest against being held in custody without trial.
Ill-health led Israel's top court to suspend his detention order.
A relative says he will now resume his fast.
Israeli authorities claim Allen is an Islamic Jihad militant who had attempted to organise attacks. They say taking him to court would be too risky as it could potentially expose secret intelligence sources.