Quotas or funds? Germany increases the pressure over migrants
Comments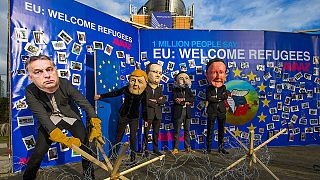 Germany's Interior Minister is increasing pressure for refugees and migrants to be distributed across Europe by quota.
Thomas de Maizière says EU funding should be reconsidered for those member states reluctant to back mandatory distribution:
"The situation in the negotiations right now is as follows: countries that resist quotas – nothing happens to them. The refugees just pass on through and that is why we have to talk about consequences. These are often countries that receive lots of structural aid from the European Union. Jean-Claude Juncker suggested – and I think he is absolutely right – that they should get less aid from the structural aid fund."
Yesterday, in Brussels, a core of eastern EU states blocked efforts by Germany and France to agree on resettling 120,000 people.