East Jerusalem: Palestinian-Israeli clashes continue into third day
Comments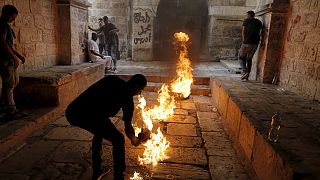 Disputes in Jerusalem have escalated for the third day as clashes between Palestinian youths and Israeli police were again witnessed on Tuesday.
Palestinian teens barricaded themselves inside the al-Aqsa mosque in East Jerusalem. Israeli police say they are trying to secure the plaza outside amid fears that access to the third holiest Muslim site may be disrupted during the approaching Jewish New Year.
Masked youths, held responsible for hurling flares at security forces and throwing stones from the mosque and elsewhere in the Old City, clashed with Israeli police, armed with stun grenades and tear gas.
Twenty-six Palestinians were injured and five Israeli police officers were harmed. No wounds were fatal.
Jordan ready to back Palestine
The Jordanian King Abdullah has condemned what he called Israel's "provocative" actions, announcing they risk imperilling ties between the two nations. This is increasingly the case since Palestinian peace talks have been frozen since 2014.
"If this continues to happen … Jordan will have no choice but to take action," announced King Abdullah on Tuesday.
King Abdullah belongs to the Jordanian Hashemite dynasty which derives its legitimacy from its traditional ownership of the sacred site.
Israeli Response
Jewish ultra-nationalists have been pushing the Israeli government to lift the ban on Jewish prayer on the plaza outside al-Aqsa, a compound devoted solely to Muslim prayer since
Israel captured East Jerusalem in the 1967 Middle East war. Israeli Prime Minister Netanyahu has said that no change will ensue.
Netanyahu was due to hold an emergency ministerial meeting late on Tuesday, called after an Israeli motorist died in a crash police said was caused by suspected Palestinian stone-throwing.