Clashes continue at al-Aqsa mosque in Jerusalem
Comments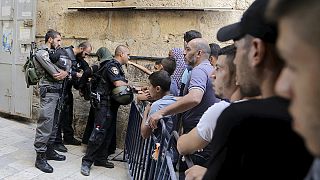 For a third day running one of the world's holiest places, the al-Aqsa mosque complex in Jerusalem, has been a scene of running battles between Israeli police and Palestinian youths.
The Israelis say they are attempting to secure the area, known to the Jews as Temple Mount, ahead of Jewish new year celebrations, and that they have intelligence suggesting there are plans to disrupt it.
The Palestinians fear the Israeli government is about to allow Jewish prayer there. It has been coming under increasing pressure from ultra-religious groups to allow it for the first time since Israel took complete control of the city in 1967.
"The plan that the Israeli government wants to put in place is frighteningly criminal; it will lead to the al-Aqsa mosque being divided up," said the Palestinian's chief negotiator Saeb Erekat.
Youths hurled stones and flares at soldiers, with unrest spilling into the narrow streets of the Old City. A passing Israeli motorist was killed in what may have been a stone-throwing incident, say police.
King Abdullah of Jordan condemned the violence and warned if it continued Jordan would "have to take action". Jordan is the traditional custodian of the site, and signed a peace deal with Israel in 1994