Angry scenes at Spanish bull-running event
Comments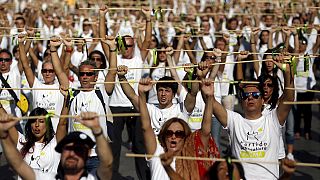 There have been angry scenes at a controversial annual festival in a town in Northern Spain.
In the town of Tordesillas in the province of Valladolid, spears are used to stab a fighting bull to death after the 600-kilo animal is chased through the town.
Disapproval of bull-running is growing in Spain.
National newspaper El Pais called for the event to be abolished in an editorial on Monday.
A petition against it collected 120,000 signatures.
"We have come from all over Spain to protect this animal from being tortured. A lot of people in the town have provoked us and attacked us." said one animal rights activist.
"It is 500 years since we got the first bull, it was a gift from Joanna the First of Castile. We have always marked the occasion and we enjoy it." countered a woman from the town.
More than 15,000 bull-running fiestas are held in Spain each year.
This summer has been particularly dangerous, with at least a dozen runners killed.