New PM for Australia as Tony Abbott is ousted by party rival
Comments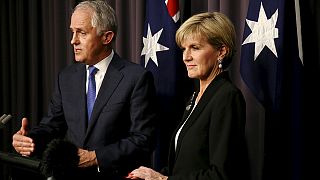 Australia is to get a new prime minister – its fifth in eight years – after former Communications Minister Malcolm Turnbull mounted a successful leadership challenge in the ruling Liberal Party.
Turnbull, a multi-millionaire former tech entrepreneur, ousted Tony Abbott in a secret ballot by 54 votes to 44.
And despite Australia's economy struggling with the end of a mining boom, Turnbull's talk was positive.
"There has never been a more exciting time to be alive than today and there has never been a more exciting time to be an Australian," said Turnbull alongside Foreign Minister Julie Bishop, who has been re-elected deputy leader of the party
"We will ensure that all Australians understand that their government recognises the opportunities of the future and is putting in place the policies and the plans to enable them to take advantage of it."
Amid months of infighting and crumbling voter support, Abbott was accused by Turnbull of failing to provide the economic leadership needed by Australia.
Contrasting scenes in the wake of the brutal Liberal ballot for PM. #libspill#auspolhttp://t.co/NpjfTNlvf9pic.twitter.com/BAwKOlAL2f

— The Australian (@australian) 14 Septembre 2015
His removal could also be seen as payback time; six years ago, Abbott ousted Turnbull as Liberal Party leader.
Australia is set to hold elections before the end of 2016, and Turnbull, expected to be sworn in as prime minister on Tuesday, told reporters he had no intention of calling an early poll to cement his legitimacy.