Wild fires wreak havoc in California
Comments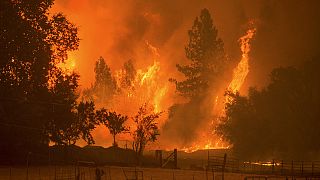 A fast-moving wildfire in California's Sierra Nevada mountains has destroyed more than a dozen homes and threatened many more.
The so-called Butte Fire has been burning in the rural Amador and Calaveras counties, where it covers an estimated 64,728 acres.
Thousands of residents in the area were required to evacuate on Friday.
About 3,300 firefighters have been working to contain the fire, which erupted on Wednesday and spread late on Friday near the former gold mining town of Jackson.
About 100 miles (161 km) to the northwest, the so-called Valley Fire on Saturday injured four firefighters in Lake County, where they had been combating the fast-moving, 400 acre (162 hectare) blaze.
Flames from a larger Sierra Nevada blaze, dubbed the Rough Fire in central California, speeded north toward McKenzie Ridge, where firefighters continued to strengthen containment lines on Saturday.
About 3,500 people were affected by a mandatory evacuation in the area.