Polish politicians unveil economic plans ahead of parliamentary elections
Comments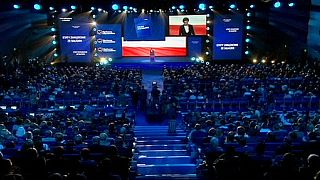 Poland's ruling Civic Platform (PO) party and opposition Law and Justice (PiS) have announced their economic plans, as they try and woo voters ahead of next month's parliamentary elections.
The PO party, which is trailing the PiS in opinion polls, said it plans to introduce progressive unified tax rates, which will include mandatory pension and healthcare contributions, now paid separately.
Finance Minister Mateusz Szczurek told the state PAP agency that the new personal taxes will consist of a progressive rate from 10 percent, up to 39.5 percent for families with the highest income per member.
He said the proposal, to be introduced in 2017 or 2018, would lower the total burden for tax payers from personal taxes, healthcare and pension contributions.
In its election programme, the opposition PiS party upheld its earlier plans of a new tax on banks and supermarkets, lower tax for small firms, but announced a pledge for free medicine for people over 75 years old.
The party, which leads a socially conservative opposition alliance, said in July that it wants to raise public spending by 2.3 percent of GDP on policies such as lowering the retirement age and raising child benefits.