Ogier dominates in Australia to be crowned Rally World Champion for the third successive time
Comments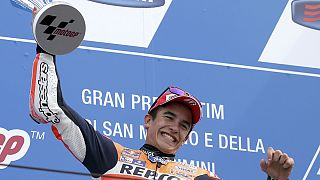 If you have followed the World Rally Championship this season, you know that it was never a question of who would be world champion but when. Sébastien Ogier had been the only real candidate since day one, he clinched the title this Sunday, in Australia, with three races to go.
And three seems to be the magic number for Sebastian Ogier and Volkswagen as this was his third title in a row. The win means he becomes only the third driver to make it a successive hat-trick of titles
.
The 31-year old won the final seven stages in Australia, including all five held on Sunday, to seal victory in the three-day gravel road event in northern New South Wales.
"It's an amazing season, the best I've ever done. No mistakes, so many great performances and this one is once again a very high one," remarked Ogier on what was his seventh win in the 10 rounds of the championship to date.
The Frenchman completed the rally 12.3 seconds ahead of his nearest rival – his Finnish team mate Jari-Matti Latvala. The result means they secured the manufacturers title for Volkswagen for the third successive year.
It was the 31st victory of Ogier's career which means he is second behind compatriot Sebatsian Loeb for the most career wins. Loeb holds the record with 78 wins.
In Moto GP, Marc Márquez dominated in San Marino and celebrated his first ever win in the top class on the Misano Circuit. Local favorite Valentino Rossi was only 5th but he also had a good motive to celebrate.
How much was that win down to Marquez and how much down to a strategy blunder by local favourite Valentino Rossi?
The rider had a record 92,000 strong home crown on their feet and cheering as he took the lead but the joy for the fans was short-lived in a thrilling dry-wet-dry race that involved two pit stops.
Championship leader Rossi and his army of home fans were left frustrated after he led with seven laps to go but left the switch from wet tyres to slicks until too late.
Marquez's Honda team pitted the reigning champion to switch bikes for a second time with 10 laps remaining but Rossi and Lorenzo – who had started on pole – stayed out.
Lorenzo eventually came in with eight laps to go and then crashed out on the next lap just as Rossi, who finished fifth, was brought in to switch back to slicks.
Marquez was joined on the podium by two British riders – Bradley Smith was second for Tech3 Yamaha after staying on slick tyres during the rain and coming through from 19th place. Scott Redding secured his first podium finish in third.
The results mean Valentino Rossi extended his lead over Yamaha team mate Jorge Lorenzo to 23 points. in the championship standings.
And finally in Pretoria, more than 17,000 people witnessed Thomas Pagès' second win of the season in the X-Fighters World Tour. The Frenchman is now tied for first with Clinton Moore.