Senate blocks Republican-backed move to derail Iran nuclear deal
Comments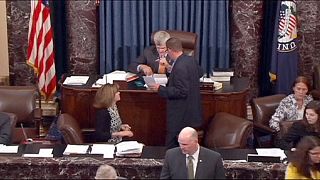 A Republican-backed measure to derail the Iran nuclear agreement has been blocked in the US Senate.
It fell two votes short of the 60 needed to advance the resolution of disapproval.
The result is seen as a major foreign policy victory for Democratic President Barack Obama.
He has been enlisting veterans and mothers of soldiers killed in action to support the Iran nuclear agreement.
There has been a show of opposition against the Iran nuclear deal. Rival Republican presidential hopefuls Ted Cruz and Donald Trump shared a rally stage in the shadow of the US Capitol to voice their concerns.
But Democrats say the vote has killed efforts in the Republican-controlled Congress to stand in the way.
Had opponents of the agreement passed the resolution, Obama would have been barred from waiving many US sanctions on Iran – a crucial part of the deal.