Cost of English breakfast 'lowest for five years'
Comments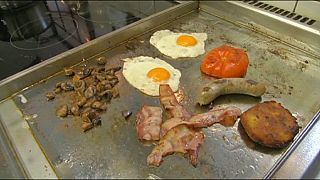 The low price of commodities does have some advantages, at least for consumers: the cost of an English breakfast is down to its lowest level in five years.
At least that's the theory, but before you tuck in merrily bear in mind that – as one analyst says – the prices of raw ingredients are not always immediately reflected in retail prices.
The Financial Times' breakfast index – backed by UN estimates – shows that an equal weighted average of six commodities was at levels not seen since 2010.
Five-year low for cost of breakfast commodities: wheat, coffee, hogs, OJ, milk and sugar. No eggs? http://t.co/K4us4ByZMp

— Ed Crooks (@Ed_Crooks) September 10, 2015
Milk prices have fallen by 33 percent over the past year; coffee by 28 percent, while Americans are drinking less orange juice. Good crops in Brazil and the US have pushed the price of frozen orange juice down by 10 percent.
Good weather and financial support for sugar producers have pushed prices down by 22 percent.
Last year coffee prices soared due to a severe drought in Brazil. This year the weak Brazilian real and plentiful supplies from Colombia have brought prices down.
Pork production is also forecast to rise, with US prices falling back.
Wheat prices are down by 23 percent. Production has benefited from good weather, with harvests plentiful in Australia and France.
The situation is in strong contrast to the early part of 2014, when bad weather hit raw materials such as milk and coffee, causing prices to soar.
Russia's food import ban has also had an impact – on pork and milk for instance.
But consumers' gain has come at the expense of farmers' pain – and it's not all good news.
Not included in the index yet an integral part of breakfast for many is a cup of tea. But tea prices have rocketed by 67 percent this year after severe drought hit supply – while cocoa is also up by 13 percent amid concern over the El Niño weather phenomenon.